Welcome!
What is UUP?
The United University Professions (UUP) is the largest higher education union in the nation, representing over 35,000 academics and professionals in 800 job titles across the SUNY system and in SUNY administration. The University at Albany Chapter of UUP works with statewide UUP to improve working conditions on our campus, advocate for academics and professionals, and keep higher education affordable and accessible for students. A union's strength is in its members. We encourage all academics and professionals, part-time and full-time, contingent or tenure track to get involved in our chapter and affect positive change on the UAlbany campus and beyond. Join us at events, participate in committees, engage in community activism, share concerns and propose solutions.
Check out the statewide UUP page at uupinfo.org or follow them on twitter @uupinfo
News/Upcoming Events
UAlbany received multiple awards at this Spring's DA on 5/5/18!
Best Editorial or Column: A 1% Raise and a Precarious Future - Bret Benjamin
General Excellence: The Forum May and November 2017 - Paul Stasi
Best Original Article: The Hidden Cost of Free College - Aaron Major
Best Article about Policy Perspectives: 'Modernizing' the Opportunities for Nuclear War - Larry Wittner
Best Website: Janna Harton and Eric Torgersen
UUP Retirees Best Original Article, honorable mention: The Scandal of Vast Inequities in Retirement Pay - Larry Wittner
The Philip C. Smith Communications Award, Best of the Best Writing Excellence for The Forum.
Congratulations to all the winners! Keep up the great work!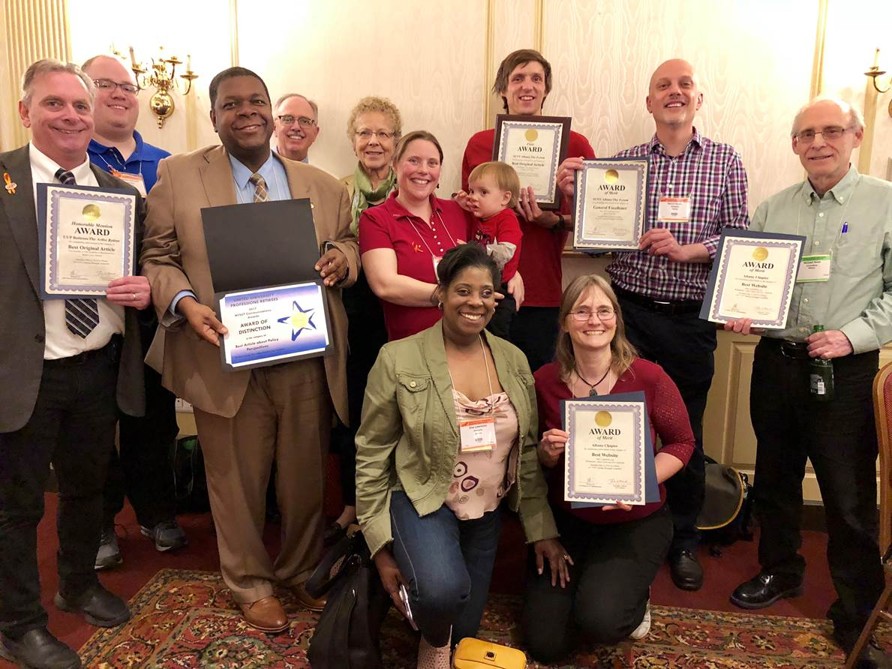 ---
The UUP/Sodexo cosponsored 4th Annual Mindful Mile and Fight Hunger 5k Saturday 4/14/18 was a great success with over 150 participants who surpassed the goal of raising $10,000! Funds raised will be split evenly between the Regional Food Bank and St. Vincent de Paul's Food Pantry. Our UUP Albany Chapter has been committed to supporting the St. Vincent de Paul food pantry to help combat food insecurity and hunger on our campus and in the local community. Donations are always welcome. Thanks to everyone for your help!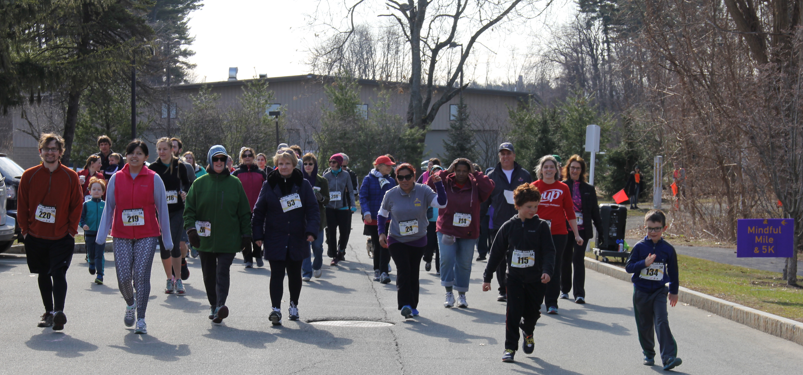 ---
Read our latest newsletter
---
Our contract is long overdue. You can help bring our negotiations to a positive close with the terms and benefits that we are looking for. All across the SUNY system your fellow UUP members are distributing these postcards asking the SUNY Chancellor to support us as we seek a fair contract. Signed cards will be collected at UUP headquarters and then delivered in person by Statewide President, Fred Kowal, to the Chancellor. Know a UUP Officer, Executive Board Member, or Department Rep.? Ask them about the cards. Are you part of a community group or know others who would support us? Email the Chapter Office at uupalb@gmail.com and we'll get you some cards. This is important, let's show SUNY that we all stand behind what we're fighting for and urge our chancellor to stand with us!
---
For the last two years our UUP Chapter has been raising money for the St. Vincent de Paul food pantry to help combat food insecurity and hunger on our campus and in the local community. This year we are partnering with Sodexo to co-sponsor the 4th Annual Mindful Mile and Fight Hunger 5k, right here on the UAlbany Campus on Saturday, April 14. Our goal is to raise $10,000 to be split evenly between the Regional Food Bank and St. Vincent de Paul. We hope to see many of you there walking or running. This is a great event for an incredibly important cause. To register, please go to https://www.zippyreg.com/online_reg/index.php?e=1014. For anyone unable to attend, you can also make a secure donation through the registration portal.
---
Please join UUP Albany as we stand in solidarity with the workers at the Albany Hilton, who have been out on strike throughout the fall. On Tuesday, December 19th there will be a rally at the Hilton (40 Lodge St.) at 5:30pm, followed by a holiday party sponsored by the Solidarity Committee of the Capital District at 6:30pm at the Albany Labor Temple (890 3rd St.). Proceeds raised will go directly to a holiday fund for the striking workers. Our Chapter has made a donation but individuals can donate too. The Solidarity Committee suggests $20. If you can't make the event but want to help give our striking brothers and sisters a nice holiday meal, you can send a check to The Solidarity Committee of the Capital District, 33 Central Ave, Albany NY 12210. Just note "Holiday Fund" in the memo line. Workers are on the picket line daily from 8am-8pm and welcome support. The Albany County Central Federation of Labor joins them weekly on Thursday evenings at 40 Lodge St. from 5-6:30pm. Join us!
---
Negotiations continue on UUP's overdue contract (for updates visit https://uuphost.org/myuup/MembersOnly/check.php.)
---
UUP statewide wants to hear from all academic contingents. Please take a minute to complete the survey and encourage your colleagues to do the same.
---
Congratulations to our own JoEllen Welsh, an Empire Innovation Professor at UAlbany's Cancer Research Center and School of Public Health who has earned SUNY's Distinguished Professorship. See http://uupinfo.org/communications/uupdate/1617/171127.php for details.