Welcome!
What is UUP?
The United University Professions (UUP) is the largest higher education union in the nation, representing over 35,000 academics and professionals in 800 job titles across the SUNY system and in SUNY administration. The University at Albany Chapter of UUP works with statewide UUP to improve working conditions on our campus, advocate for academics and professionals, and keep higher education affordable and accessible for students. A union's strength is in its members. We encourage all academics and professionals, part-time and full-time, contingent or tenure track to get involved in our chapter and affect positive change on the UAlbany campus and beyond. Join us at events, participate in committees, engage in community activism, share concerns and propose solutions.
Check out the statewide UUP page at uupinfo.org or follow them on twitter @uupinfo
News/Upcoming Events
See our latest newsletter for articles about tuition-free college in New York, how to support research at the University and your rights as an employee under the contract.
---
Thanks to all who supported the UUP 5k Walk to Fight Campus Hunger on April 30. We raised $2,000 for St. Vincent de Paul Food Pantry, 984 Madison Ave. The pantry serves the Albany community, including UAlbany students, faculty & staff. For every $1 donated, the pantry can purchase $4 worth of food. The walk helped to raise awareness about food insecurity, a growing problem on college campuses nationwide. This academic year, UUP has raised over $3,000 for the pantry. The walk was a Chapter Action Project of statewide United University Professions.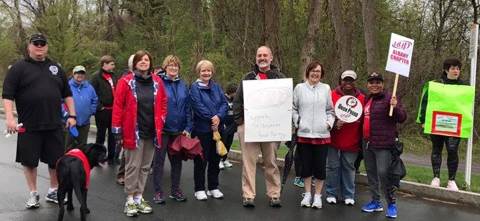 ---
2017 Chapter Election results have been released and are available here.
---
The Peace and Justice Committee, in collaboration with UAlbany's Department of Communication and local activist group Women Against War, organized a well-attended campus presentation this spring by noted Middle East expert Phyllis Bennis of the Institute for Policy Studies. Bennis discussed the rise of ISIS, pointed to how the US invasion of Iraq in 2003 paved the way for violent extremism, explained how the current war on ISIS has continued to bolster support for terrorism, and noted that the costs of war have diverted tens of millions of US taxpayer dollars that could have been better put to use on healthcare and educational programs here at home.
---
UUP Albany is pleased to announce the release of "Woven Into It's Very Fabric: A Report on Contingent Labor at the University at Albany, Survey Data Analysis and Policy Proposals." This report makes important contributions to the national conversation on adjunct and contingent labor in higher education. It includes 10 specific policy proposals that arise from a detailed analysis of employment data and survey responses from academic contingents on the UAlbany Campus. Our Chapter is pleased to be working with Albany Administration to implement the proposals detailed in the report.
UUP Press Release on the UUP and UAlbany Contingents Reports